Get a sneak peek in the lives of our sales representatives.
"Great things in business are never done by one person. They're done by a team of people". - Steve Jobs.
Our sales department is responsible for the sales of new winches and winch systems to our worldwide dealers and end-users.
Our account managers don't represent a certain geographical area or range of products, such as country or product managers. We take responsibility for a project based on our level of expertise, experience, the complexity of the project or historic relations.
We are problem solvers
We strive for perfect and customized solutions
We believe in working together
What we are made of
EMCÉ challenges us and gives us freedom to implement our own ideas, which leads to highly motivated employees. The ultimate way to success.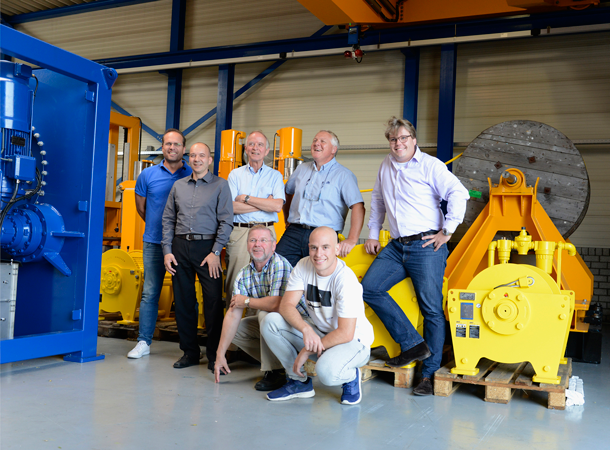 Arno van Zaanen, Sales Director
Can do-er – 'Quality performance starts with a positive and an inspiring attitude '.
Fifty years young, married with children (2 boys of 22 and 18 years old) and living in The Hague. Working for EMCÉ as Sales Director since 1999. With a short pause of five years, being with another offshore equipment manufacturer, you can tell that I'm passionate about the offshore sector.
EMCÉ is known for its tailored solutions, no inquiry is the same or day is the same, since every project needs our special attention and expertise. Working together with so many dealers in several parts of the world, that's what keeps my job challenging and attractive.
Rene Enter, Export Sales Manager
Solution finder - 'We basically never say no'.
Been in business since 1996. Started at sister-company ELSTO, following by Imatrans and currently at EMCÉ. I can say, it never starts to get boring, as we keep on going and growing.
As a sales technician with a background in drive-systems and specialized in planetary drives, I'm always happy to help out clients. My absolute favorite thing about this job is to handle requests with specifications that are so special, that at first sight, it seems nearly impossible. Understanding the challenges that customers face and develop a suitable solution for them is what drives me.
Gerrit Jan, Sr. Accountmanager
In the driving seat – 'Love working every day, from any place, with all kinds of people, from all over the world'.
To me, it is interesting and daring to work in a high-tech environment and to supply solutions to our customers either from our standard range of products or by innovating new products. Having a "hands-on" mentality and being skilled by trade and education, makes this job a perfect fit for me.
Andre Mesman, Sr. Accountmanager
Visionary - A mind is like a parachute; it doesn't work if it isn't open.
Almost thirty years ago, I have started at the company ELSTO to be an assistant on the production site. Within one week, my colleagues asked me to help out in the winch department. By that time, only seven people worked at EMCÉ. With confidence, we can say that EMCÉ has grown so much and I love being a part of that growth.
The most difficult thing in our job is to know your own and the companies' limitations, which results only in challenges and none headache projects.

Marc Ripoll, Project Manager
Spider in the web - 'Accept challenges, work hard and you will succeed!'
Project management is all about making the most out of opportunities and not about waiting for the right opportunities.
I have been working for 1,5 years for EMCÉ and I love that my involvement changes from project to project. The contact moments with all disciplines within EMCÉ, representing the customer, make me a flexible spider in the web. This gives me the opportunity to completely focus on all sort of needs at every stage of the process.
Erik Berkenbosch, Sr. Accountmanager
Motivated Retiree - 'Recently retired, but what's the fun in that?'
In theory retired, but not in practice. Still enjoying being part of this team. Married for forty years with my lovely wife, who understands the need of staying active.
Started in 1997 at Imatrans and because of the size of the company at that time many different challenges had to be dealt with. As the time passed, I enjoyed the variety of work more and more.
Now I may call myself "senior" Sales Engineer and this is an advantage which I experience every day working for EMCÉ.
What I do best is being a consultant. International contact, advising and sorting out technical questions about winches are aspects of the job that keep me motivated.
Think first, then take action. The best way to overcome challenges.
Marcel Bosman, After Sales & Service
All-rounder – 'Always open to hear ideas and learn from or help other people'.
A true family man, happily married with children (2 boys of 9 and 5 years old) and living in Zoetermeer.
In 1997, I've started at EMCÉ as a machine operator. In those twenty years, I've developed myself as an all-rounder, as I've gained experience in every department within EMCÉ.
Nowadays, when customers put me in the hot seat, it's not tricks or tactics that help me meet those challenges, but attentiveness and experience. Knowing all processes from begin to start, have given me the technical knowhow to solve difficult challenges.