Quality
Quality standards and quality systems merely record what is already there. At EMCÉ we have the ambition to provide our customers with the best and most reliable equipment for their money. To achieve this we actively pursue a policy of continuous staff training and education in combination with an open organization in which all available knowledge and information is shared to ensure maximum employee involvement in realizing our ambition.
In addition to the above, it goes wihtout saying we made sure that an external party also reviews the way we work. A notable step in having the right credentials is the certification of EMCÉ under NEN-EN-ISO 3834-2 and NEN-EN-ISO 9001.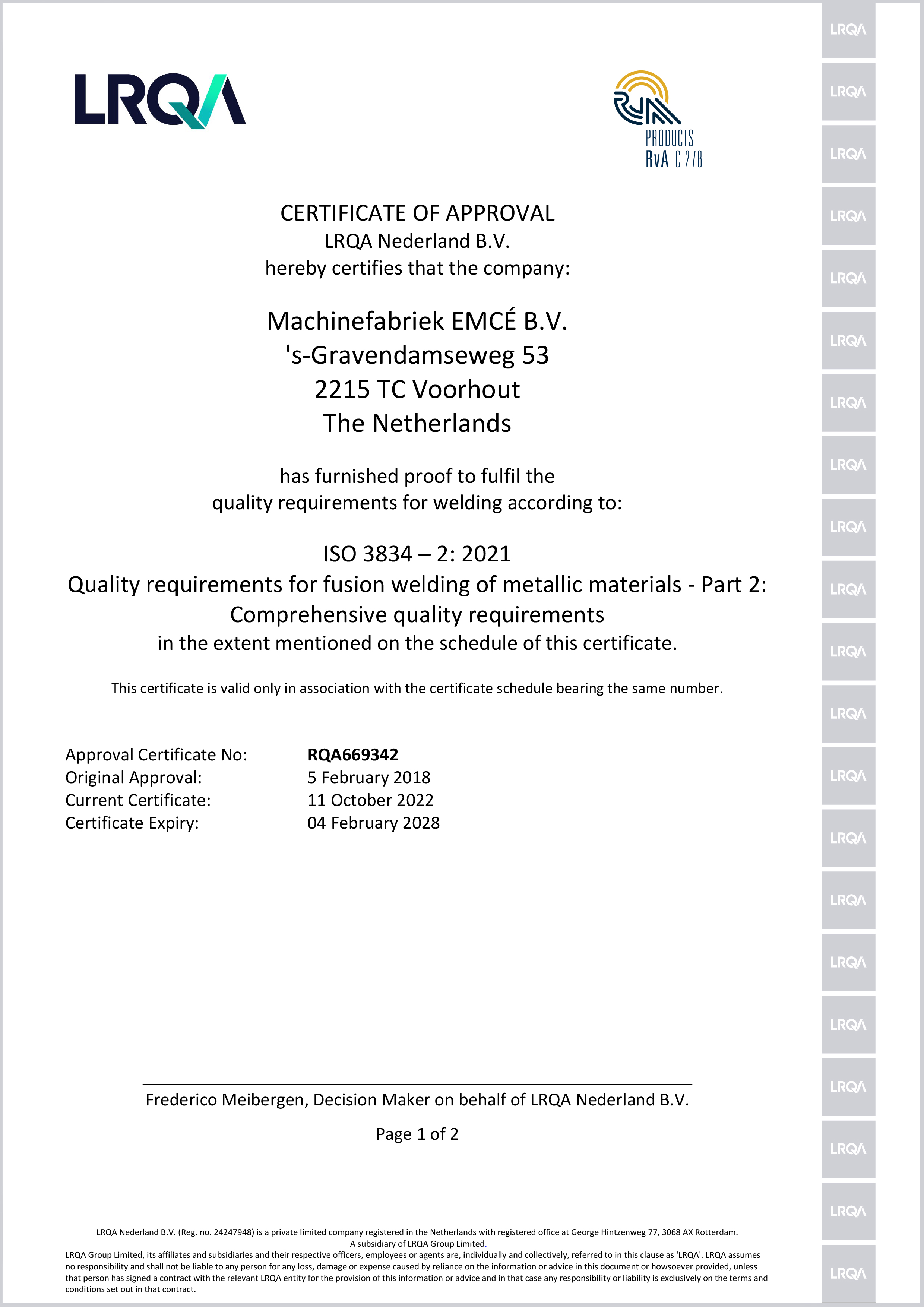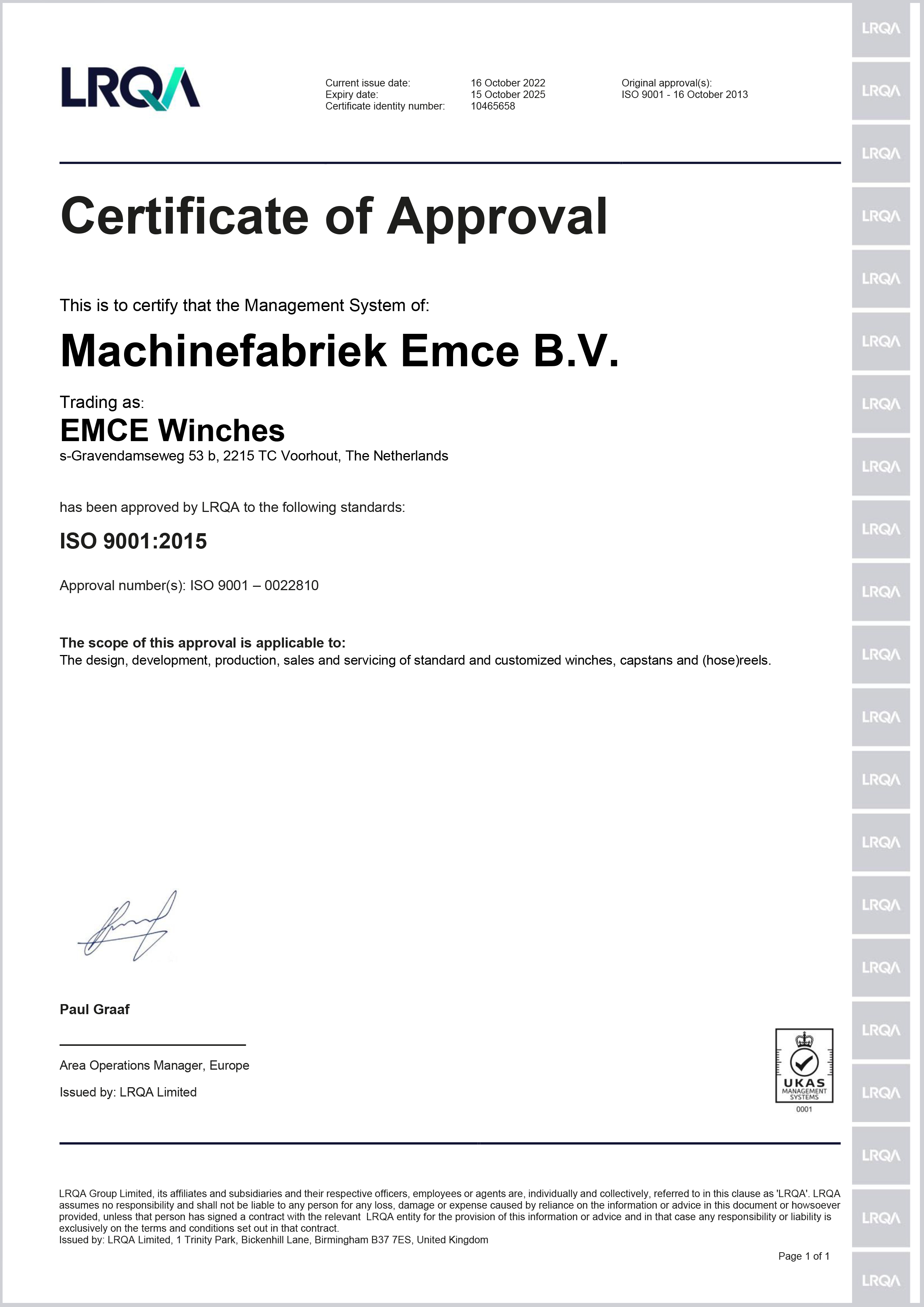 EMCÉ follows all relevant procedures for the certification of the quality system for remarking materials. The Re-Marking Certificate enables EMCÉ to transfer 3.1 material markings from the supplied materials to the individually made products. This ensures almost infinite material traceability for the customers who need it.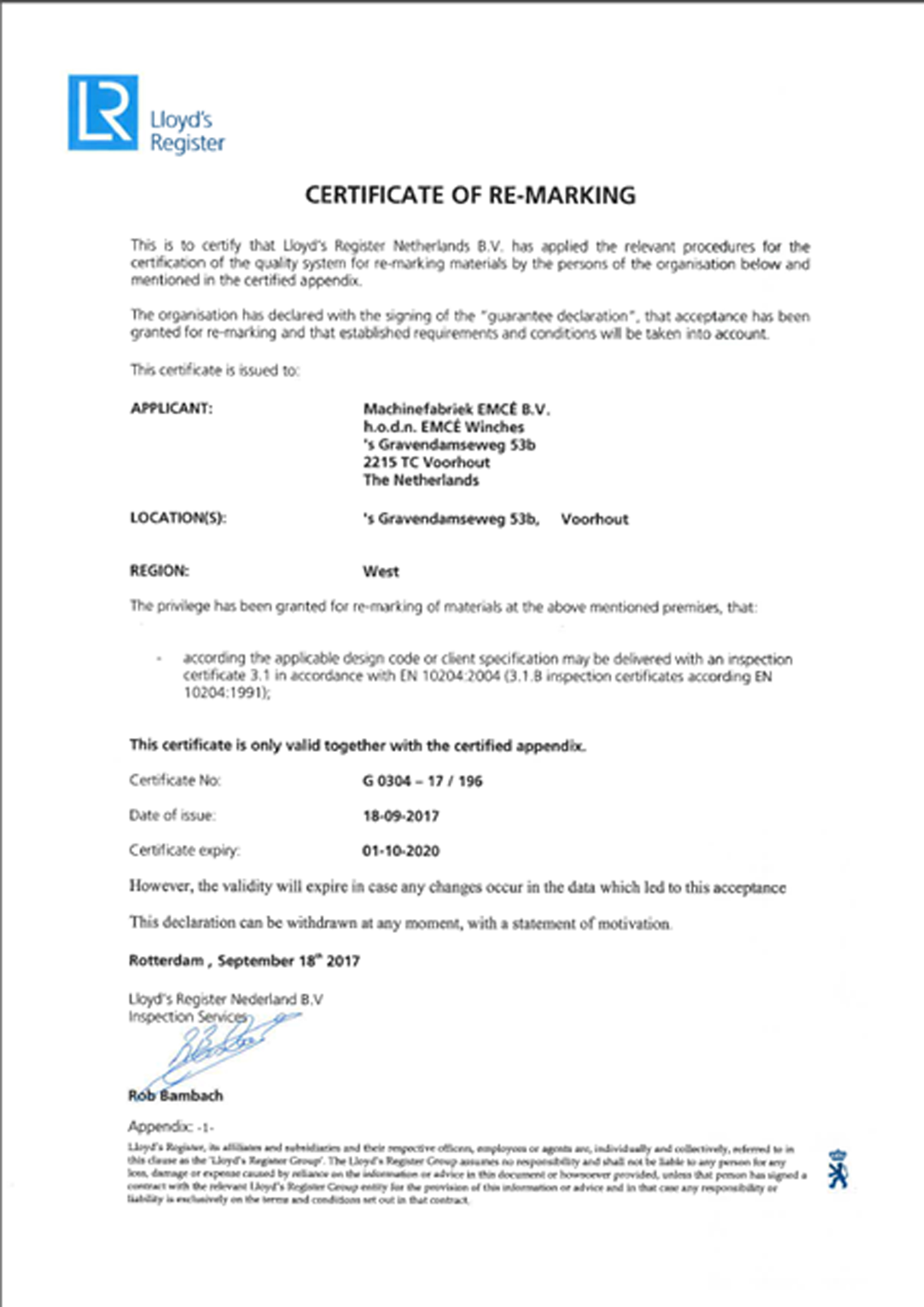 With QHSE management, we ensure that EMCÉ complies with the laws and regulations regarding quality, health, safety and environmental performance of our equipment.
Sales, service and support in every part of the world
All the above being what it is, will not have any enduring effect without proper customer service, customer training and customer support. You will find the same commitment towards service, training and support at EMCÉ as we have towards our products. Since over eighty percent of EMCÉ's production is destined for the export market, a reliable world wide dealer network is a primary requirement for making this work the world over. EMCÉ is proud to offer her customers a dedicated sales and service network around the globe with professionals from the winching industry, many of which have been involved with our company for many decades.
Our worldwide network assures excellent local support, maintenance and repair, while factory staff will travel the world for commissioning, modification or specialized repairs. EMCÉ's stock of spare parts with global availability and forms an important factor in the remarkable EMCÉ reliability and maximum up time.
Clients the world over rely on the outstanding quality of our products and our service to keep them going even when the going gets rough.See our dealer overview to experience our world wide presence. Please contact our export sales department to obtain contact details of local dealers.
Built to last and perform across the globe even under the most adverse conditions EMCÉ winches will deliver, anytime, anyplace. EMCÉ, every winch a winner.
Guarantee
EMCÉ guarantees that its winches are free of defects in material and workmanship for a period of one year from the date of sale to the original user. EMCÉ will repair, without costs, any product found to be defective, including parts and labour charges, or, at its discretion, it will replace such products or refund the purchase price after deducting a reasonable allowance for depreciation, in exchange for the faulty product.
If any product proves defective within its original one year guarantee period, it should be returned to any authorised EMCÉ dealer: shipment should be prepaid and include proof of purchase and/or winch data sheet/test certificate.
This guarantee does not apply to products which EMCÉ has determined to have been misused or abused, improperly maintained by the purchaser, or where the malfunction or defect can be attributed to the use of non-genuine EMCÉ parts.
EMCÉ makes no other guarantee, and all implied guarantees including any guarantee of merchantability or fitness for a particular purpose are limited to the duration of the expressed guarantee period as set forth above. EMCÉ´s maximum liability is limited to the purchase price of the product and in no event shall EMCÉ be liable for any consequential, indirect, incidental, or special damages of any nature arising from the sale or use of the product, whether based on contract, tort, or otherwise.